Express-Service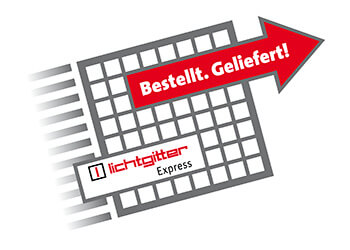 Since 1929, we have been producing gratings. In high quality, with first-class service and according to requirements of our customers. That has made us one of the world's largest and most successful suppliers on the market over the last few decades.
Today it is not just about quality but about speed. Our customers must respond more and more flexibly to the needs of their customers. We adapt ourselves to this: with Lichtgitter Express, our new, fast service.
This means:
From now on, we can supply you with pressure-locked and forge-welded gratings in the most popular standard types in 6-8 working days, in a maximum 10 working days also including technical editing.
Advantages
6-8 working days for gratings tailor-made
8-10 working days for gratings tailor made with processing
available in 2-3 working-days = the complete stock program
Top Service - only one contact person
DELIVERY TIME:
6 - 8 working days for gratings tailor-made without cut-outs and processing
8 - 10 working days for gratings tailor made including technical editing with cut-outs and standard processing
Mesh: 33,33 x 33,33 mm
Banding: Flat/T-Profile
| | Serration No. 3 |
| --- | --- |
| P 225 33 | PX3 225 33 |
| P 230 33 | PX3 230 33 |
| P 230 33 | PX3 330 33 |
| P 240 33 | PX3 240 33 |
| P 340 33 | PX3 340 33 |
Mesh: 33,33 x 11,11 mm
Banding: Flat/T-Profile
| | Serration No. 42 |
| --- | --- |
| P 220 33/11 | PX42 220 33/11 |
| P 225 33/11 | PX42 225 33/11 |
| P 230 33/11 | PX42 230 33/11 |
| P 230 33/11 | PX42 330 33/11 |
| P 240 33/11 | PX42 240 33/11 |
| P 340 33/11 | PX42 340 33/11 |
DELIVERY TIME:
6 - 8 working days for gratings tailor-made without cut-outs and processing
8 - 10 working days for gratings tailor made including technical editing with cut-outs and standard processing
Mesh: 34 x 38 mm
| | Serration No. 11 |
| --- | --- |
| SP 225-34/38-2 | SPX11 225-34/38-2 |
| SP 230-34/38-2 | SPX11 230-34/38-2 |
| SP 330-34/38-3 | SPX11 330-34/38-3 |
| SP 240-34/38-2 | SPX11 240-34/38-2 |
| SP 340-34/38-3 | SPX11 340-34/38-3 |
DELIVERY TIME:
12 - 15 working days for gratings tailor made including technical editing with cut-outs and standard processing
Mesh: 33,33 x 33,33 mm
Banding: Flat
| | Serration No. 3 |
| --- | --- |
| P 225 33 | PX3 225 33 |
| P 230 33 | PX3 230 33 |
| P 230 33 | PX3 330 33 |
| P 240 33 | PX3 240 33 |
| P 340 33 | PX3 340 33 |
Mesh: 33,33 x 11,11 mm
Banding: Flat
| | Serration No. 4 |
| --- | --- |
| P 225 33/11 | PX4 225 33/11 |
| P 230 33/11 | PX4 230 33/11 |
| P 230 33/11 | PX4 330 33/11 |
| P 240 33/11 | PX4 240 33/11 |
| P 340 33/11 | PX4 340 33/11 |